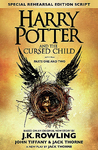 Harry Potter and the Cursed Child
by
John Tiffany
My rating:
5 of 5 stars
Let me just preface this review with the fact that I am incredibly biased when I review this book. The Harry Potter novels are without a doubt my favorite books I've ever read. They are what cemented my love for reading as a part of my persona since I was the mere age of 11. The characters are real to me. The wizarding world is a place I visit to find an escape from the outside world and a place I can revisit when I want to feel nostalgic. It is a place I grew up in and I place I love dearly.
That being said, here is my review- probably missing some things here and there, but it flows purely and directly from my heart.
What can I say? A five out of five?! I must be insane?! No. I loved this book from the very first page. The format did not deter me at all. I loved reading it every single second. The feeling of reading it was akin to reading one of the seven books for the first time again. It felt glorious and it had me turning pages faster than you can say Wingardium Leviosa. I got to revisit old friends, and even live in a world in which we got to see Snape alive again (not that it was the best reality... but still, Snape was alive). Needless to say, I fell. And hard.
What about the writing? I could tell it wasn't the same but I was okay with that. And that is all I am going to say. But how much could I really expect it to be the same? This is a script book. It was meant for the theater. And some of the stage notes were what really brought the emotion and dialogue to light.
Now about the characters.
Scorpius, Scorpius, Scorpius, how I love you so much. Sure I was excited to learn more about Harry and Ginny's children but it was Scorpius who caught my attention right from the start. He easily snuck his was onto my list of favorite characters in the wizarding world. And can we talk about the Trolley Witch for a quick minute?! I loved how they brought this unknown side into the light and we got to learn more about her. I mean, my sister and I have been quoting her for as long as I can remember! "Anything from the trolley?" Love it.
And I absolutely loved seeing old characters interacting again! Ron, good ol' Ron, always the life of the party. And in this book it almost seemed like he was a little more like his older twin brothers (maybe I'm the only one who thinks this). But I definitely got a good chuckle out of Ron's dialogue as always. And along with Ron came the one line comebacks from Ginny that would shut Ron up in a second. The Weasley dynamic was perfect in my eyes.
And who could resist seeing Minister for Magic Hermione Granger in action? We all knew she was destined for greatness. I loved that she had the powerful role in the story and they showed her prowess to delegate very well. Another strong female character was none other than Headmistress Minerva McGonagall. A complete badass and one of my ultimate role models. Her dialogue and role in the play was reminiscent of the old days when she would scold the school kids. Just goes to show that no matter how old you are, there is always someone older and wiser.
I found myself liking Draco Malfoy a lot more in this book, although I had missed the crew so much that I had a feeling I would love ALL the characters. But the new character Delphi is someone who I didn't much care for. When they revealed her real motive the first thought I had was that her obsessive tendencies reminded me of Bellatrix. Later confirming that she was her daughter left me a little disappointed because it seemed like she a copy of her. For some reason I had a feeling that it would have been nice to see a little more of Voldemort in Delphi. A little more of an internal struggle or a fear of death. But maybe that's just me.
I do however, like the fact that they left little clues that Delphi was Voldemort's daughter when they note:
DELPHI rises up after them. She's flying, and without a broom.
(pg. 234) I noticed this and the image of Voldemort flying without a broom popped into my mind. It made me notice the little clues weaved throughout the story more.
I liked how much of the plot was based on the topic of time travel in the magical world. I know that Jo got a lot of shit for not being thorough in fleshing out the rules the first time. And I also enjoyed how it focused on different aspects of parent-child relationships. I appreciated how it highlighted some of the strife that kids go through and the fact that their parents don't always know what is best for them. Sometimes situations can be misread and parents can create the wrong solutions to the wrong problems. It was just a nice subplot.
The one thing that felt wrong when reading it was the ending. It felt a little empty. I am used to being left on a huge pivotal moment or a cliffhanger. The last book had the Battle of Hogwarts which was intense the whole time. So the ending felt a little meek to me. But I still can find a way to appreciate it in the end.
And finally, here are some of the moments in the book that absolutely wrecked me:
- HARRY: ... Best do it at a run if you're nervous. (pg. 8) Yeah, I was wrecked from Act 1, Scene 1.
- the dialogue between Snape and Scorpius on page 179 about Lily and Albus.
- SNAPE: Tell Albus - tell Albus Severus - I'm proud he carries my name. Now go. Go. (pg. 195)
- ALBUS: Cedric - Your dad loves you very much. (pg. 237)
-
DUMBLEDORE attempts to reach out of the portrait - but he can't. He begins to cry but tries to hide it.
(pg. 257)
- In fact, the entire dialogue between Harry and Dumbledore in Act 4, Scene 4 (pg. 256-258). You have no idea how long I've waited to see this play out.
I know this is a long review, and more of just a rambling. But if you're still here, reading this, thank you. Let me know what your thoughts are!
View all my reviews